---
---
For technical reasons, this swapbot is currently inactive
Please, DO NOT PLACE ANY ORDERS
We apologize for any inconveniences
---
---
Only Premium rank members can trade with the Premium Merchant. Swaps are only allowed from the whitelisted addresses.
---
Use the Book of Orbs or IndieSquare Wallet to trade with the Premium Merchant..
---
Trade and collect cards to create the most powerful deck playable within Spells of Genesis (SoG), EverdreamSoft's new game with a story based on the blockchain, or trade your cards freely outside the game!
Download Spells of Genesis for free .
---
PREMIUM MERCHANT'S OFFER
GRIDCOINCARD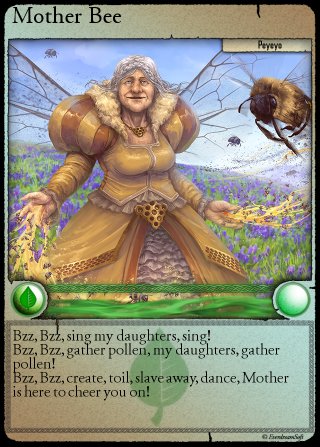 Mother Bee is our blockchain card designed in collaboration with Gridcoin. GRIDCOINCARD was issued in a limited supply of 800 units. Get yours for 30 BCY!
---
Discover all our blockchain based trading cards!
Register and start collecting cards!
Learn about the exciting world of Spells of Genesis!
Learn more about our company
---
Every month, we burn 50% of our card sales in BCY then we publish a monthly report in accordance.
---